WELCOME TO ALCANCE B
OUR MUCH ANTICIPATED FAWN LITTER IS HERE
Whelped on 24 August 2023
Please see "Available Puppies" tab for specific info, Microchip numbers & explanation of how you could become an owner of one of these very special pups.
We are ANKC Registered Breeders.
Dogs Victoria member 3100017108
Please contact Dogs Vic on email: [email protected] to verify our status.
Victorian Dept of Animal Welfare PER No. RB186724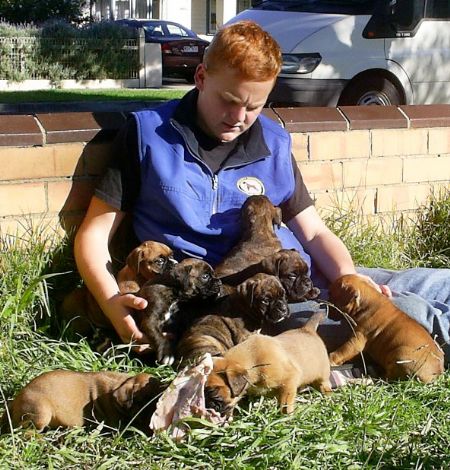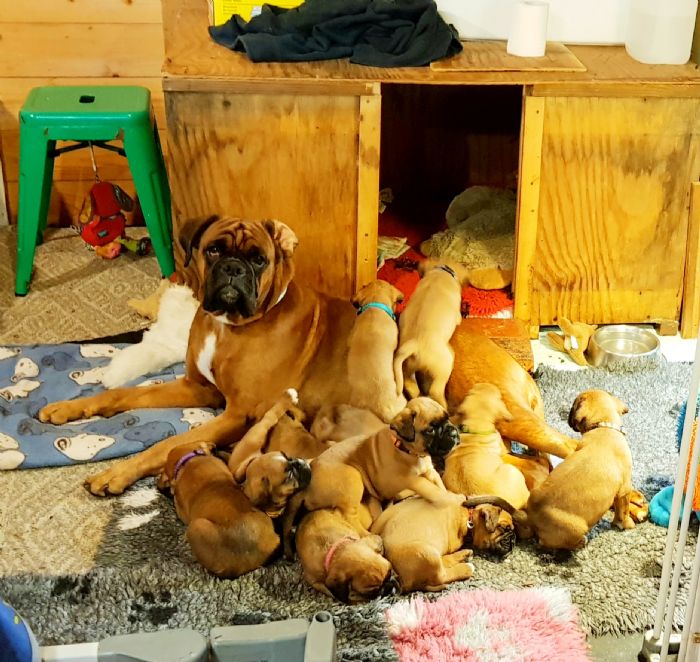 Thank you for taking a look at our boxers and us humans!
There's plenty of information in the following pages about our Boxers, what we as breeders aspire to and of course plenty of photos.

If you want to know more, we encourage you to make a date and come to see us at a dog show, or contact us via email or on the mobile to visit the kennel.

The boxer was created to be a home guardian, best friend, hunter and fierce competitor.
Take a look at this antique video for an insight into the workability of the breed:
1948 - Italian Video of Working Dogs
Looking for a sensational boxer to join your family?
If you want to express your interest in any of our boxers - current or future - then we ask that you send us an email so that we can send you our Information brochure and Puppy Application. We like to provide more info about who we are, what our boxers are like and what they need in order to be happy. That way you can come for an interview, you're prepared and ready to meet the whole pack! See our "Contact Us" page for more information.
Please Note: We don't keep a wait list nor do we take deposits until pups are born. However, we do remember those who have submitted an application and made time to visit with us
Another great option to consider is adopting a (more???) mature boxer.
Check out the registered charity Boxer Rescue Network Chat on Facebook
________________________________________________________________________________________________________________________________
Here at Alcance Boxers we actively update our canine breeding, behaviour and training knowledge. We want to be certain that what we tell our potentail "dog-in-laws" about the breed, its care and training is well founded and useful! Following is just a sample of the continuing education we have undertaken:
In March 2020, The Team from Alcance Boxers attended the two day seminar "Puppy Culture" delivered by the creator, Jane Killion of Madcap Bull Terriers (USA) and hosted by DogsVic
In May 2017, Jill attended the week long ABC National Boxer Specialty in Indianapolis, USA. What a great experience to see and some of the top boxers in the US and meet so many owners and exhibitors!
In June 2009 & October 2010

,

Jill attended the first two webinars given by Dr Kathryn Muers, Small animal Cardiac Specialist, DVM detaling the discovery of the ARVC-1 gene in Boxers, and explanation of best practice in relation to managing a breeding breeding program with regard to cardiomyopathy in the breed. More information about Boxer Cardiomyopathy can be found here:

www.cvm.ncsu.edu/vhc/csds/vcgl/boxer-arvc.html

&

www.youtube.com/watch
In September 2011, Frank & Jill attended the K9 Pro Seminar "Training in Drive", held at Bendigo, run by Steve Courtney - Nationally Accredited Dog Obedience Trainer, Law Enforcement Dog Trainer and Canine Behaviourist. More info about this program can be found here:

www.k9pro.com.au



In February 2012, all the humans from ALCANCE attended

DunbarInOz

, a three day training seminar conducted by the veterinarian, animal behavourist and dog trainer Dr Ian Dunbar - PhD, BSc, BVetMed, MRCVS, CPDT, CAAB.


Dr. Dunbar received his veterinary degree and a Special Honors degree in Physiology & Biochemistry from the Royal Veterinary College (London University) plus a doctorate in animal behaviour from the Psychology Department at the University of California in Berkeley. He has authored numerous books and DVDs about puppy/dog behavior and training, including "How To Teach A New Dog Old Tricks" and the SIRIUS® Puppy Training video.

In 1982, Dr. Dunbar designed and taught the world's very first off-leash puppy socialization and training classes — SIRIUS® "Puppy Training". Over the past 40 years, Ian has given over 1000 seminars and workshops for dog trainers and veterinarians in an effort to popularize off-leash puppy socialization classes, temperament modification, and owner-friendly and dog-friendly dog training. More info can be found here:

www.dunbarinoz.com/Home.aspx
We were all very excited about this weekend of full-on learning in canine behaviour and application, and Dr Dunbar did not disappoint.
In June 2009

, Frank, Jill and Emilia attended the Cesar Milan seminar in Melbourne. We do not recommend his method of training. We choose to endorse only scientifically validated, positive rewards based training methods.
In February 2013,

Jill attended another Ian Dunbar Seminar which focussed on

"Canine Social Behaviour and Aggression

".

This seminar covered the following areas:

"DEBUNKING THE DOMINANCE MYTH",
"FEARFULNESS, REACTIVITY & FIGHTING WITH OTHER DOGS" and
"FEARFULNESS & BITING PEOPLE".
See the website

http://www.dunbarinoz.com/2013Events.aspx

for full info.
​

In April 2012, Jill participated in the DPI Public Consultation into the Code for Breeding and Rearing Establishments convened by the state government.
In September 2012, Jill attended a webinar by ASAP Labs "Optimal Selection - A Genetic Tool to Find the Best Mate ".

​This webinar was designed for professional dog breeders. Dr. Neale Fretwell and Dr. Angella Hughes from MARS Veterinary discussed a new genetic tool which allows breeders to choose potential breeding mates by measuring breeding coefficients of their breeding stock. This test provides a better understanding of the specific chromosomal patterns (haplotypes) their dogs carry, allowing breeders to use that information in their breeding decisions and work to maximize the genetic diversity (heterozygosity) in their puppies.



In November 2012, Jill attended a seminar given by Melbourne Animal Behaviourist, Dr Kate Mornement. "The Science of Animal Training and Behaviour: How animals learn and how to modify behaviour". This was a great seminar and supported much of what we learned from Dr Ian Dunbar.

In December 2012, Jill attended the webinar "Integrative Healthcare with W. Jean Dodds, DVM". Fascinating info re nutrition, food sensitivity and new tests now available to discover why your dog may be itching herself like crazy!.
​

IN EARLY 2016

, We imported semen from AM GCH/CAN CH ARABY HIGH POINTE "Ollie".

Ollie combined with our girl "Stella", Australian Champion Alcance Spring Showers and together produced our beautiful girl "

Vespa".
In Februrary 2017, Jill qualified as full member of the PET PROFESSIONAL GUILD, The Association for Force-Free Pet Professionals. The guild represents Pet Trainers, Behaviour Consultants, Pet Care Service Providers like Registered Breeders and Veterinarians across the Globe.


Last but definitly not least, Alcance Boxers campaign actively to Close Puppy Mills.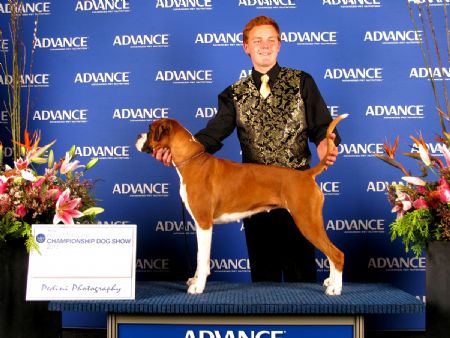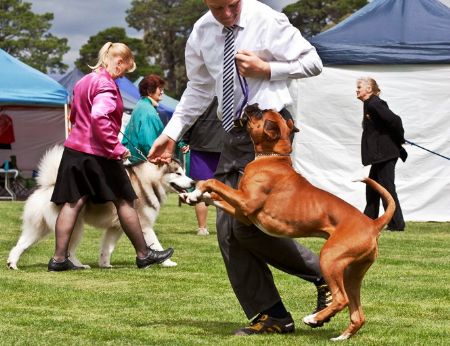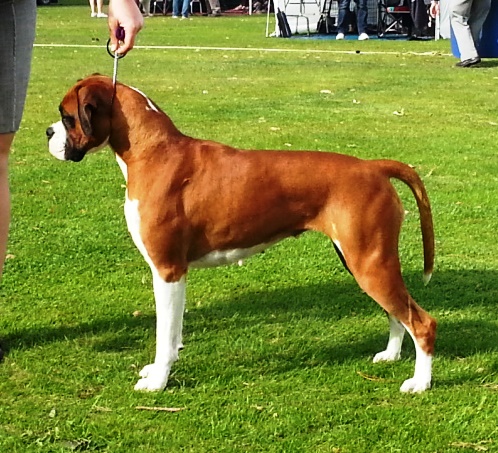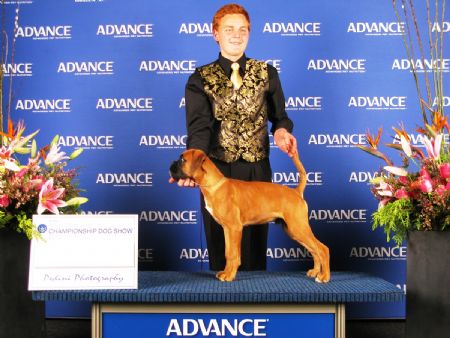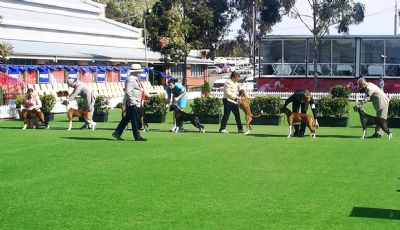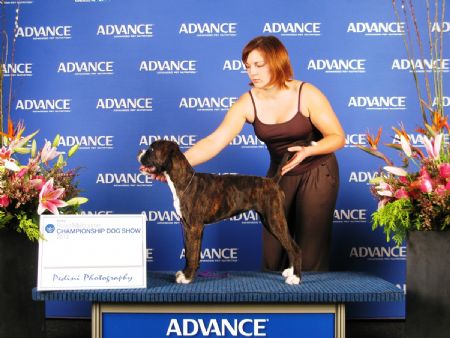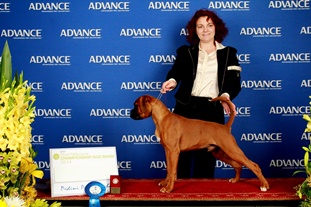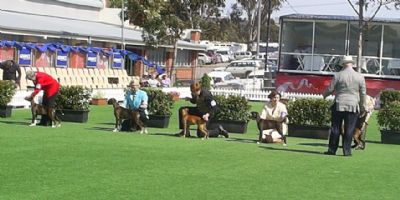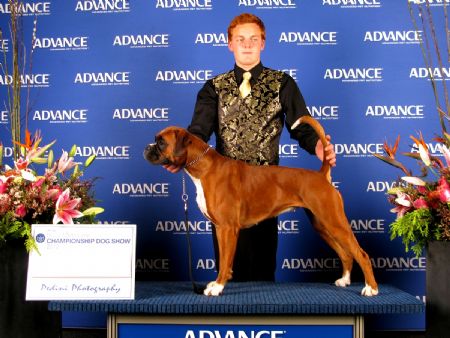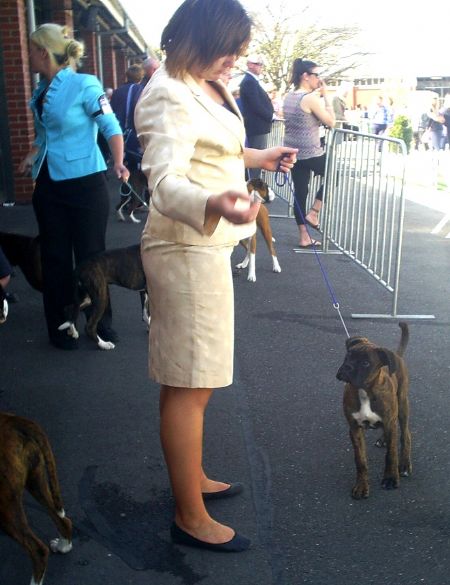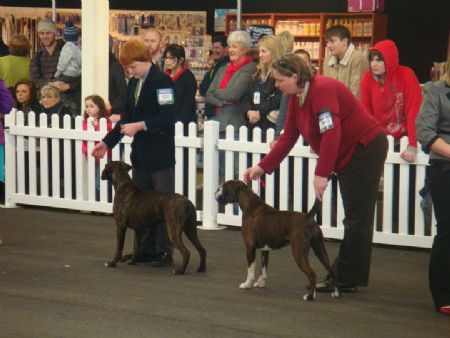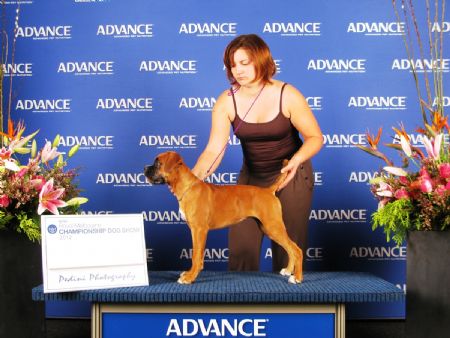 236922 Visitors